Can I play Toontown using WASD controls?
As it turns out, yes you can! Thanks to our Toontastic Options Update, players have the ability to change the key bindings for any control within the game. Next to your Shticker Book is a convenient remote button that opens up the Options Menu. Within this menu, you can change the key bind for any action you want. You can say goodbye to the arrow keys if you want, because WASD is here!
Can I play Toontown using game controllers?
Yes! You can turn on our game controller support in the game settings if on Windows, Mac or Linux. Controller support is turned on by default on Steam Deck in Game Mode. Please note this is experimental and you may experience unexpected issues while playing with a controller. Please let us know any issues you run into by emailing us at support@toontownrewritten.com.
Our current controller layout is shown below, mapped to the default keys used in-game. Changing your keyboard bindings in the Options Menu will not impact controllers.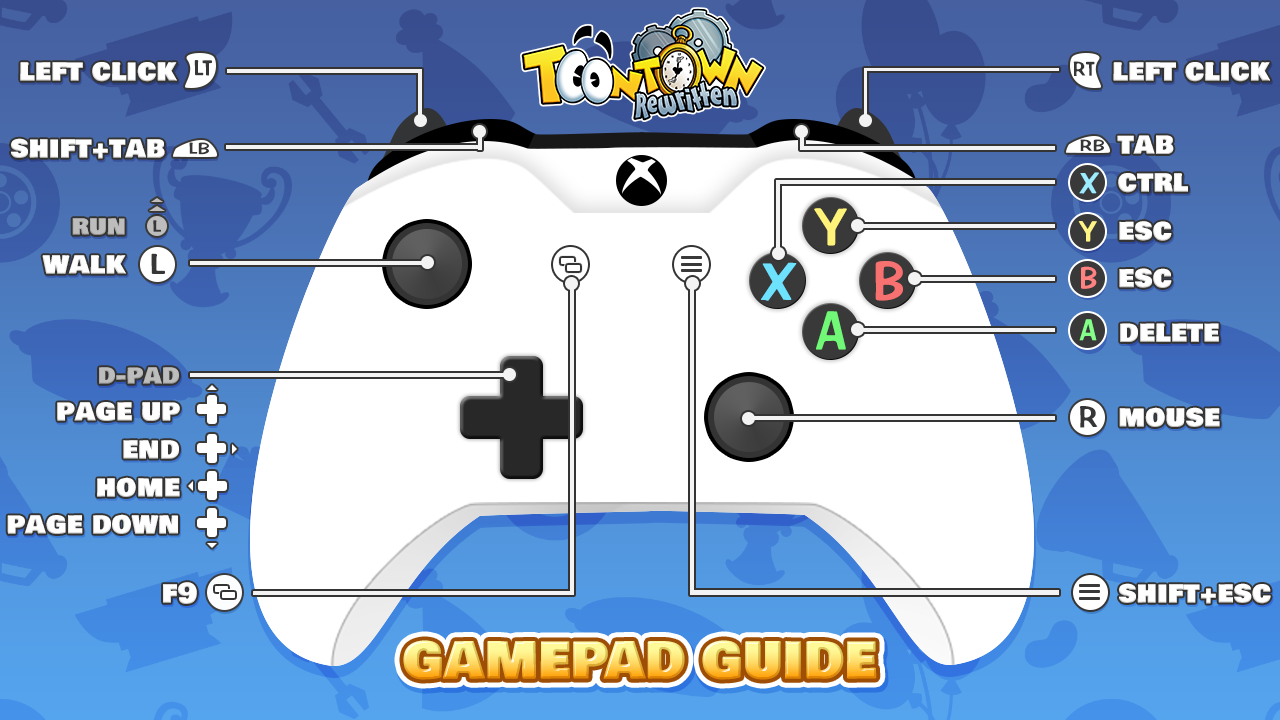 At this time, we do not have any settings to customize the bindings, but this is something we are looking into for a future update. We also welcome feedback on our default layout!
At this time, we do not support menu-style navigation common to other games, but we will work on this for a future update. Until then, you can navigate with a virtual mouse using the right analog stick and your controller's shoulder triggers (or the trackpad/touch screen on the Steam Deck). Virtual mouse works best in full screen or borderless mode when set to your display's native resolution. Windowed mode has a known issue where the mouse will stop moving if the pointer leaves the window.
We have tested multiple game controllers and have determined the following are working well with Toontown Rewritten as of the 3.4.0 update:
Xbox One/Series S and X (Recommended for the best experience)

Xbox 360
Any 3rd party controller that uses XInput on Windows
Steam Deck
We are working to optimize and add additional controllers to this list over time including PlayStation and Nintendo Switch controllers.
Can I play Toontown on a Steam Deck?
Yes! We currently support Steam Deck in both Game Mode and Desktop Mode!
To install the game on your Steam Deck, start desktop mode, open a terminal and run:
flatpak --user install https://cdn.toontownrewritten.com/launcher/linux/launcher.flatpakref
The game launcher can then be opened from the KDE launcher menu.
If you want to play in Game Mode, open Steam while in desktop mode and add the game launcher as a non-Steam game to the library (in the games menu), then reboot to Game Mode.

Because of the Steam Deck's screen size, we recommend setting the font size accessibility setting to very large. You will need to run in windowed mode or borderless mode to be able to use the Steam Deck touch keyboard, which can be opened while playing by pressing Steam+X.
Why can't I buy the special emotes in the back of my Cattlelog?
These emotes are for long-time Toontown players! You can unlock them after having an account for a certain number of days.
The timings for the special items are 720 days for Laugh, 540 days for Furious, 360 days for Delighted, 180 days for Cry, and 90 days for Surprise. These are the same as they were in Disney's Toontown Online. The times for the outfits are (since account creation): 720 days for Lure, 540 days for Sound, and 360 days for Trap. Don't worry, you'll be able to purchase them before you know it!
The building for my ToonTask isn't there! Where did it go?
We promise you that none of our buildings have vanished! Chances are you're reading the Street Map and the indicator is placed between two buildings. Try going to the other side of the building where the indicator has taken you.
Alternatively, your building may have been taken over by a Cog building. Cog buildings are tall, grey skyscrapers that take over Toon buildings. Grab your friends to take it down! If a building is too powerful for you to defeat, you can try visiting a different District where the building may be available.
Can I play more than one Toon on the same account at the same time?
Short answer: No.
Long answer: Due to technical and security limitations, while you can make up to 6 Toons on any one account, you can only have one session logged into your account at the same time! If you want to play with your friends, family, or want to 'multi-toon', you are more than welcome to create a new account. After all - it's free!
How come I can buy skirts now? Is this a bug?
As of the 3.10.3 game update, all Toons can wear all articles of clothing! This is an intentional change made to let Toons express themselves freely. These changes are the first release of efforts to unify Toons, and more changes will be coming down the line.
Why aren't skirts appearing in my Cattlelog?
You'll need to wait until your next Cattlelog comes in the mail (which will be listed in your calendar page) to see the latest updates. Cattlelogs are delivered once per-week for active Toons, so you won't have long to wait!
How do I add or remove eyelashes from my Toon?
If you head to your wardrobe in your Toon Estate, you'll find a new toggle to enable or disable eyelashes. In the future, we hope to implement even more eye styles to further customize your look!
How do I change the style of my Toon's Wardrobe and Trunk?
This currently isn't possible to do. We're working on making this possible — Stay TOONed!
I maxed an activity before the 3.10.3 game update as a boy Toon. How do I get my skirt?
All you need to do is complete one more instance of the activity. From there, you should be congratulated again for maxing, and the skirt will be mailed to you. This includes Sellbot Task Force ToonTask Rewards!
I used a limited-time Shticker Book code before the 3.10.3 game update as a boy Toon. How do I get the skirt from that code?
Currently, there is no way to obtain the skirt. We're actively looking into ways to address this issue — stay TOONed!